The optimum combination of pleasure and health
Vegetable oils consist exclusively of lipids.As such, they have very interesting nutritional qualities. According to the ANSES (National Agency for Food, Environmental and Occupational Health Safety), it is recommended that we consume 35% à 40% of our daily calorie intake in fat. Consequently, the daily use of vegetable oils in our diet contributes to a good balanced diet.Vegetable oils have many health benefits and their aromas make it possible to prepare tasty dishes.
The different types of lipids
In food, there are two categories of lipids:
Those of animal origin ;
Those of vegetable origin.
Lipids of plant origin (those present in oils) are much more advantageous.
Each oil has its own lipid profile  varying amounts of different fatty acids (lipid constituents).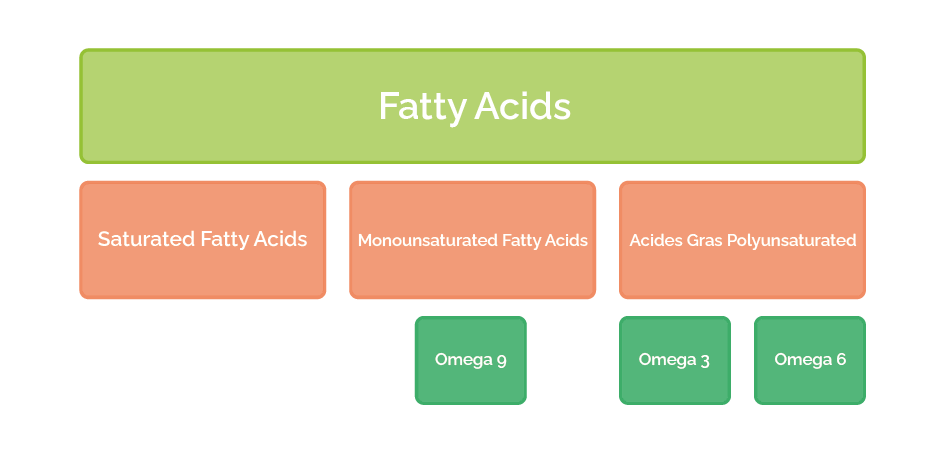 These fatty acids can have harmful effects on our bodies. Absorbed in too large quantities, they can lead to hypercholesterolemia. They are mainly found in animal fats (cream, butter, cheese). Oils are not a major source of saturated fatty acids, which makes them all the more interesting from a nutritional point of view.
Monounsaturated fatty acids (or omega 9)
These fatty acids have many benefits, such as their role role in regulating cholesterol levels and their positive effect on blood pressure. This leads to the prévention des maladies cardiovasculairesOmega 9s also have a positive effect on insulin sensitivity, which leads to a reduction in the risk risk of type 2 diabetes and obesity.
The oils richest in omega 9 are: olive oil, hazelnut oil, rapeseed oil, THO* and avocado oil.
* THO: Highly oleic sunflower
Polyunsaturated fatty acids (omega 3 and omega 6)
There are two types: omega 3 (alpha-linolenic acid) and omega 6 (linoleic acid). They are said to be « essential », because they are not produced by our body and must therefore be provided by the diet.
Omega 3 and 6 help maintain normal cholesterol levels.
The RDA for omega 3 is 2.2 grams/day.They are mainly found in rapeseed, walnut, flax and camelina oils. For example, 1 teaspoon of linseed oil (10g) provides 100% of the RDA* in omega 3.
The RDA in omega 6 must be 5 times higher than that of omega 3 to achieve a ratio of omega 3 to omega 6 close to 5. They are mainly found in grape seed oil, sunflower oil, pumpkin seed oil and sesame oil.
* RDA: Recommended Daily Allowance
Two vitamins are found mainly in food oils: vitamin D and vitamin E.
Vitamin D is an essential vitamin for the proper functioning of the body, it allows the increase of calcium and phosphorus concentrations in the blood. The recommended daily intake of vitamin D is 3.1 micrograms/day.
Vitamin E is a powerful antioxidant that helps protect cells against oxidative stress*. Sunflower, grape seed, avocado, hazelnut and rapeseed oils are rich in vitamin E. The recommended daily allowance of vitamin E is 12 micrograms/day.
*Oxidative stress correspond to an aggression of the cells induced by harmful molecules (free radicals).